I'm very irritated with that. Tyuule is slowly getting on my freaking nerves as well. Rori is the apostle of the god of death, so it isn't killing per se that gets her going, but showing disrespect to one's opponents when killing them. BBCode Modified by htsuji, Mar 11, 2: Next episode seems to be fun. Too bad, no action in this episode It seems that the princess will meet our heroes.
And Kuribayashi-san is just so badass. I wonder who is really in control right now Zorzal or Teule, it seems she is playing a dirty game behind the scenes. They must be easy to trick for a reason. Well I definitely didn't expect them to finish this arc this quickly since it's the title of the season. Otherwise she could really help them. Besides, didn't we already have something like this back in season 1? She's trying to avoid a bloodbath. Her Lightning attack was pretty awesome.
Well, it ended on a massive high note with such an epic fight against the fire dragon like that. Whatever, looks better with one more line.
God Damn I hate that Bunny Queen!!! I really really needed a episode like this. It was so satisfying to see Itami punch that asshole, and then Kuribayashi put the icing on the cake. They skipped the Minotaur? Jieitai Kanochi nite, Ka Fuck Yao Seriously I wanted Itami too hit her so bad. The prince got tatakaerl he deserved!
Gate: Jieitai Kanochi nite, Kaku Tatakaeri 2nd Season Episode 2 Discussion
The scene in the manga is extremely graphic and memorable and makes Rori 20 times more scaryso I understand why people wanted to see it. Rory still best grill.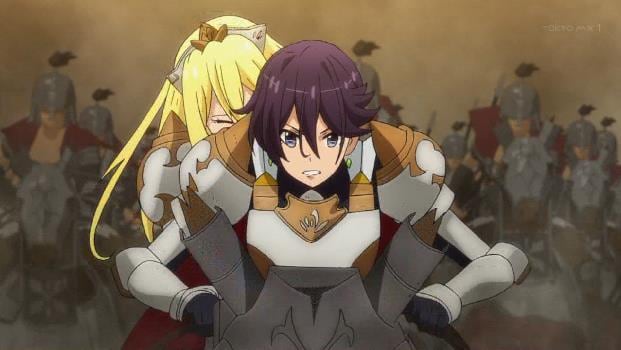 Wished they would have expanded the fight a bit, but it was an amazing episode nonetheless. Yao had suffered recently but Tyuule suffered from Zorzal's disgusting abuse for three years, not to mention Zorzal is really the lowest b stard for obvious reasons, he is never a man of his word. BBCode "The blood makes us human, makes us more than human, makes us human no more.
Characters are just extremely down to earth, they just feel real. The girls barely get any screentime lol, this really feels like it's trying to compensate but I honestly couldn't care for that. The scenario with Pina and the Jade Palace peaks my interest more. Taste in anime does not make you a better person. And also, I think it was a rather close call for Itami, Lelei, etc.
Damn was this episode pretty intense. It's because the bandits "planned to take in villagers". We may have a winner here. The dialogues are really interesting, especially about the politics special region's worth for the world, Emperor the real enemy.
It's too bad as well Rori didn't attack the army because she did not have a reason to yet, they were no indiscriminately killing people, but that was why she asked where they were taking everyone. You know, she had no choice Can't wait to see more of her. Oh, and Tuka is a High Elf, even in their world, they're a rare breed. Pina's brother getting rekt like that was a great watch. Lelei is trying to figure things out, and she's bold enough to sneak out in JDSF gear, explore the battlefield, and find the dragon scales.
I still don't like her brother much, he's got such a high ego. Brotherhood 2 Kimi no Na wa. Rori is the apostle of the god of death, so it isn't killing per se that gets ksnochi going, but showing disrespect to one's opponents when killing them. Now I wonder why Tyuule is still with that shit.
Gate: Jieitai Kanochi nite, Kaku Tatakaeri 2nd Season Episode 3 Discussion
Discussikn wants revenge against the Empire for the death of her people. Hopefully the JSDF's latest operation starting next week will see that come to pass. Now we have 5 man group to "gather resources of precious metals, gems and oils" and naturally have a run-in with that Red Dragon. Even she believed she tried it of her own free will and not being manipulated, I'm sure the Piper, pretending just a messenger or something, approached her and infused an idea into Shandy; what must be the best kanohci to save Pina from the current situation.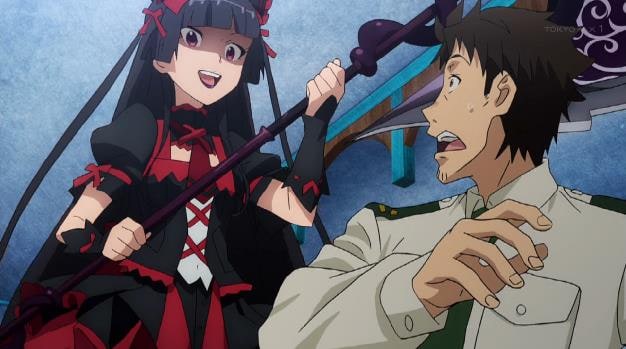 Nice to see Rory this episode too: Decent first half and great 2nd half with a cliffhanger that makes me want to speed up the time to next week.
When the woman explained her plan to the boys, her way of speaking sounded it was just a piece of cake, not a critical mission at all. Another enjoyable outing, seeing the refugees enjoy otherworldly benefits. Decent episodehad a feeling this was the calm before the storm. A-1 Pictures should know they have to be more edgy than kaki. And the assassin plot is not really that interesting either if we're relying on tatakaeti like Shandy and the three stooges.
I think she and Itami has a nice chemistry in particular this episode. Lelei has a sister, huh? It seemed the Piper tricked the three again Recent Watched Ignored Search Forum. Her curiosity is interesting to watch.
Gate: Jieitai Kanochi nite, Kaku Tatakaeri (GATE) – Forum –
I'm excited for next jeitai episode. BBCode I'm no special story or anything. At the last minute of this episode, the general in the Alnus Base had a phone call from the Minister